Rockin' out and raisin' money
2 March 2014
By Daryllee Hale, Arts & Life Editor
No Comments
After seven years, co-ed service fraternity Alpha Phi Omega, Iota Gamma chapter is still 'rocking' out for a good cause.
The fraternity held its seventh Rock-A-Thon concert to spread awareness of Pulmonary Hypertension on Feb. 28 in Paws.
The event began in 2007 after one of the fraternity members, Elizabeth Juhasz died of the condition, which causes an abnormally high blood pressure in the arteries of the lungs.
"Rock-A-Thon has grown to become a tradition," Adam Leatherman, Alpha Phi Omega, Iota Gamma chapter treasurer and conference chair said.  "We have been fortunate enough to develop amazing partners over the years, that have helped the event to grow."
This year's performers were bands Too Talented to Strip, Somewhat Superhero and Stacked Like Pancakes and dancers from Towson's Filipino Cultural Association.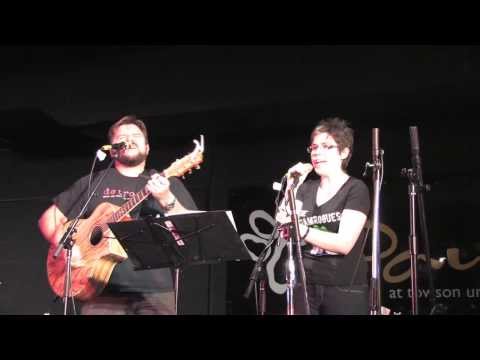 This year, the fraternity raised more than $150 and had one of its largest turnouts ever, Courtney Smith, service vice president of Alpha Phi Omega, Iota Gamma chapter, said. About 200 people attended the event, she said.
"A lot of alumni said it's the biggest one they've seen in a long time," Smith, who co-planned the event with Leatherman, said.
Leatherman said the event has been able to grow since its inception thanks to Campus Programming and the Weekends at Towson program, which help to reduce the costs of the event so the fraternity can donate 100 percent of funds raised to the Pulmonary Hypertension Association.
The group plans to host Rock-A-Thon again in the spring, in addition to the other service projects it plans.
Leatherman said he hopes that Rock-A-Thon continues to grow in the future.
"A group of students were able to come together and bond over their shared tastes in music and help a community in need at the same time," Leatherman said. "I've never met anyone who didn't enjoy listening to some kind of music. Even though our tastes and preferences vary, through music, we can build relationships and collaborate to help a greater good."
To find out more about Alpha Phi Omega, contact membership.apotowson@gmail.com.