Tigers advance to CAA semifinal game
8 March 2014
By Jesse Jones, Sports Editor
No Comments
Win over JMU is first in quarterfinals since 2009
Entering Saturday's Colonial Athletic Association quarterfinal game against the defending CAA Tournament Champion James Madison, only two Tigers had significant postseason experience.
While Jerrelle Benimon had Big East and NCAA Tournament experience, Four McGlynn also had NCAA Tournament experience. The then-freshman guard scored 18 points for Vermont in an NCAA Tournament win over Lamar in the 2011-12 season.
McGlynn provided a spark in the postseason again, this time leading Towson with a season-high 21 points to an 80-71 win over James Madison.
"He's a really good player," Head Coach Pat Skerry said of McGlynn. "I think the bigger the stage, the better he'll play. I think our guys did a really good job of finding him in the second half. I'm not surprised. He has postseason experience. He's a winner."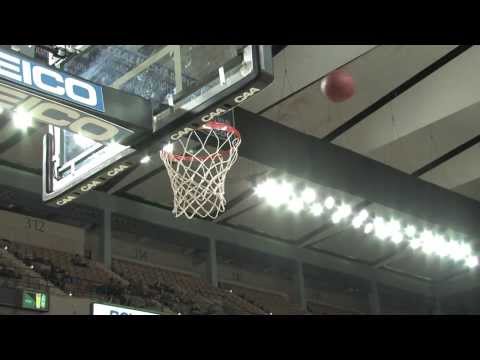 McGlynn played to his strengths Saturday night, as he made 4-of-5 three pointers and 9-of-10 free throws. McGlynn leads the CAA in free throw percentage and made 68 three-pointers at Vermont when he earned America East Rookie of the Year.
"I don't think there was anything different about tonight," McGlynn said. "Coming into the tournament, we were really excited it was in Baltimore. I guess I kind of fed off the atmosphere, honestly. We had a great turnout and when the crowd is behind you, it helps you."
McGlynn wasn't the only Tiger (23-9) to find success from beyond the arc. Senior forward Marcus Damas, who finished with 14 points, was 2-of-4 from three-point range and senior guard Mike Burwell (17 points, four rebounds, two assists) knocked down a three as well. Benimon's only two field goals were three pointers as well.
The senior forward still managed to record his nation-leading 21st double-double of the year with 18 points and 10 rebounds despite not making a two-point field goal. He also recorded four assists.
In getting its first quarterfinal win since 2009, Towson also made CAA Tournament history. The Tigers set a record for most free throws attempted by one team in a game (61) and most free throws made by one team in a game (39).
"I was worried because we missed a lot of free throws," Skerry said. "We had to play some zone … to try and not run out of bodies. We are 12th in the country in free throw attempts a game, so that's a big piece of what we do," Skerry continued. "I would expect that we get to the line a lot tomorrow."
Over 30 fouls were called in the second half of the game, and James Madison (11-20) had to manage losing four key players due to fouls (Andrey Semenov, Tom Vodanovich, Paulius Satkus and star guard Andre Nation). Nation finished the game with 18 points and five rebounds off the bench.
Towson also lost Damas to foul trouble, and at one point in the second half, the longest time span without a foul called was 77 seconds.
The constant stoppage of play made it difficult for both teams to find a continuous rhythm on the floor.
"I couldn't get a rhythm from the free throw line either, so I guess it didn't make a difference," Benimon, who missed nine free throws, said. "We shoot a lot of free throws as a team, as a whole anyways each game and it kind of plays to our favor a little bit to get fouled. If they keep fouling us, I guess we'll keep shooting them."
Despite shooting just 64 percent from the charity stripe and losing the rebound margin 40-26, the Tigers made their last 10 free throws to hold off the Dukes.
"I knew it was going to be a hard-fought game. James Madison is very well-coached and they have tournament experience," Skerry said. "We were fortunate to win. We didn't totally do what we do. We guarded and we got to the foul line, which are two things we do. We normally rebound, which we didn't do."
The Tigers will return to action Sunday evening when they take on the William & Mary Tribe, who took down the College of Charleston, 70-59, on Saturday.
Towson defeated William & Mary last Saturday by two and defeated the Tribe on the road by 15 on Feb. 15.
Sunday's second semifinal matchup will tip off at 5 p.m. from the Baltimore Arena and can be seen on NBC Sports Network.