Tigers eliminated from CAA Tournament
9 March 2014
By Jesse Jones, Sports Editor
No Comments
Skerry expects team to continue in postseason
Down 73-71 with less than 10 seconds remaining in Sunday's Colonial Athletic Association Semifinal game against William & Mary, forward Jerrelle Benimon drove the ball into the paint from the top of the key.
The senior was greeted by all five Tribe defenders and lost the ball out of bounds with five seconds left.
William & Mary's Marcus Thornton received the inbound pass and sank both free throws after being fouled, sealing a 75-71 win and a Tribe a berth in the CAA Championship game Monday against Delaware. Towson will now wait to see if it will be selected for the NIT or CBI in postseason play.
"I got to the spot. I was right there and I usually never get stripped; I usually have strong hands," Benimon said of the final play. "I was just kind of soft with the ball. I was at the rim. I should have finished it."
Head Coach Pat Skerry said that the play was exactly what he wanted.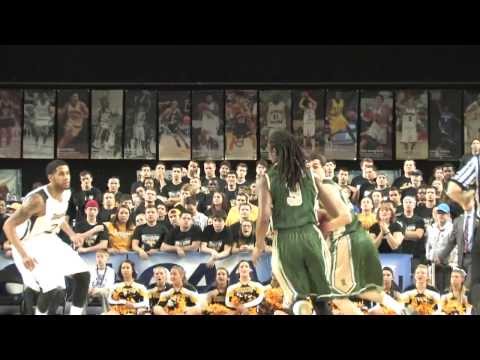 "I would hope that he would do 100 out of 100 times what he did, drive the ball to the rim and try to score or get fouled. I thought it was the exact right play and if we had to do it over again, we'd do the same thing over and over," he said.
William & Mary Head Coach Tony Shaver said that he told his team prior to the game that a team effort against Benimon is what they would need to win. It's what he got on the final possession.
"We told our players before the game, 'One-on-one we might not win this battle. As a team, we can be better than they are tonight,'" Shaver said. "I think that last possession is a great example. Our team defense was perfect."
While team defense reigned supreme on the final possession of the game, defense was not always evident throughout the game.
The Tribe (20-11) shot 55.1 percent  (27-of-49) from the field, including 11-of-22 (50 percent) from three-point range. The Tigers (23-10) shot 50 percent (25-of-50) as well from both three-point land and the field.
However, Skerry has said all season that the only way his team will win is by playing defense. And while they've held opponents to 40 percent on the season, William & Mary shot at will on its way to its third CAA Championship in seven years.
"We knew they were a potent offensive team and they made a lot of difficult, tough shots," Skerry said. "I don't think it was any for a lack of effort on our part, we just didn't have the type of night we normally have defensively."
Thornton was the key to the Tribe's offensive outburst. During the regular season, the Tigers held him to just 19 points in two games on just 20 percent shooting. Sunday, the junior guard scored a game-high 21 points on 7-of-13 (53.8 percent) shooting.
"I don't think I did anything different in particular, I just hit good shots tonight," Thornton said. "The first couple of games, I didn't shoot particularly well, but I'm confident in myself so I stayed with what I do well. Shots went for me tonight and my teammates."
Thornton's teammate, Brandon Britt, was a huge reason for the Tribe's success from beyond the arc. The senior guard shot 4-of-6 from three and finished the game with 16 points.
"This league is full of great guards honestly," Towson senior guard Mike Burwell said after the game. "Marcus Thornton, hats off to him. He made tough shots."
One thing that William & Mary and Shaver wanted to limit was the amount of times Towson got to the free throw line. The Tigers are one of the top teams in the nation in getting to the charity stripe and got to the line 61 times in Saturday's quarterfinal win.
However, the Tigers shot just 20 free throws.
"I think part of their philosophy is to put their head down and run into people," Shaver said. "They get that call pretty consistently. Our approach tonight was, 'We know they're going to bang us. But if we put our hands up, we're going to get our share of those calls. If our hands are down, we're never going to get that call. We worked very hard on bodying out with our hands up. Real key to the ball game, no question about it."
Benimon, who went to the line 279 times before Sunday's game, shot just two free throws against the Tribe. He finished the game with a team-high 18 points.
"I got doubled. I felt I was getting some drives and wasn't getting calls that I usually do," Benimon said.
Although Towson's chances at an NCAA Tournament berth are all but gone, Skerry said that the team will continue to play in the postseason, if given the opportunity.
"We're going to keep playing. We're going to have to sweat it out. Either be in the NIT, CBI, CIT," Skerry said. "Obviously, we would have liked to been in the big dance for these guys."
William & Mary will face CAA Regular Season Champion Delaware on Monday night at the Baltimore Arena.