Tigers pull out last-second win on senior night
1 March 2014
By Jesse Jones, Sports Editor
No Comments
Tied at 58 with seven seconds remaining in Saturday's regular season finale against William & Mary, senior forward Marcus Damas dribbled to the top of the key and found classmate Mike Burwell open down low.
Damas passed the ball to Burwell, who sank the eventual game-winning floater with 1.5 seconds remaining.
The Tribe were never able to get a shot off, and the Tigers held on for their 22nd win of the season, a school record for wins as a Division-I program. The Tigers will have the No. 2 seed in the Colonial Athletic Association Tournament as well.
"Unbelievable atmosphere here today. It was jumpin'," Head Coach Pat Skerry said. "Our guys really, really wanted to win, as much any game. We didn't play well early. It ended the right way."
Before the opening tip, Towson's four seniors – Burwell, Damas, Rafriel Guthrie and Jerrelle Benimon – were honored. Damas and Benimon are the 23rd and 24th players in program history to score 1,000 points, while Burwell and Guthrie have been consistent starters for Towson (22-9, 13-3 CAA) all season.
"It was a hard game for me. I struggled last night in bed, this morning and even trying to address them a little bit," Skerry said. "These guys rose us from the dead so-to-speak, all four of them. I'm forever grateful for them for taking a chance on what we try to sell them here at Towson."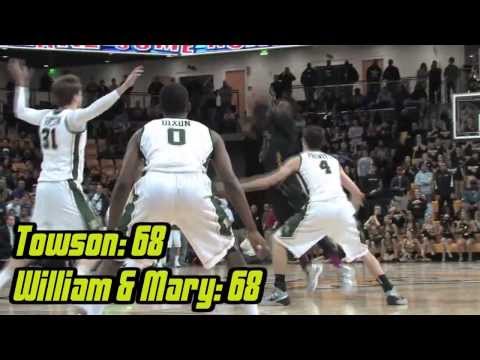 While many people in the college basketball world never would have imagined Towson winning 22 games in a season, Damas said he envisioned it during the 1-31 season.
"It's a great feeling. I just stuck with what Coach Skerry said. I knew I had my boys on the bench ready to come in. I just looked forward and it's all just come together," Damas said, reflecting on the 1-31 year.
Although Saturday's game ended in fitting fashion for Towson, it started in favor of William & Mary (18-11, 10-6 CAA).
The Tribe were able to jump out on the Tigers often and early and held a 15-point lead at one point. Despite a surge from Towson, William & Mary carried a 36-26 lead going into the half before eight points from both senior forward Tim Rusthoven and junior guard Marcus Thornton.
In the opening frame, the Tigers shot just 33 percent (9-of-27) from the field and made just 1-of-9 three-pointers. Meanwhile, the Tribe shot 46.4 percent (13-of-28) from the field.
"I think we were too amped up," Skerry said on the first half. "At halftime it was just, 'You're playing really hard. Just lock in, relax a little bit.'"
The second half was a complete "180" for both teams. Towson shot 57.7 percent (15-of-26) from the field and made 4-of-8 three pointers. William & Mary, on the other hand, shot just 33.3 percent (10-of-30) from the field.
While Benimon led the way with his nation-leading 20th double-double on the year (21 points, 16 rebounds), Burwell was a huge catalyst in the Tigers' win down the stretch.
Up 53-51, the senior drove the ball and found sophomore forward Timajh Parker-Rivera with a behind-the-back pass that set up a layup. Burwell then made consecutive baskets that gave Towson its largest lead of the game at five with just over five minutes remaining.
Burwell, who failed to record a point in the first half, scored all 10 of his points in the second half.
Guthrie and sophomore guard Four McGlynn also played big roles in Towson's comeback. Each hit multiple three pointers in the Tigers' 44-point half.
"When it really counted, second half especially, we locked in, locked down, got stops when we needed, hit free throws down the stretch," Benimon said. "We got a lot of offensive rebounds down the stretch which helped us a lot. I think we played well down the stretch."
The Tigers will now turn their attention to the CAA Tournament. As the No. 2 seed, Towson will play next Saturday at 6 p.m. at the Baltimore Arena. It's unclear who their opponent will be at the moment, but if James Madison defeats Hofstra later this evening, the Tigers will face the College of Charleston. A James Madison loss would mean the Dukes and Tigers would face each other.
"I think honestly, anyone we play can beat us," Skerry said. "They're all hard games. We got to guard and rebound at a high level and make sure we get a good shot. I think we're built for tournament play. Either game is going to be a hard game."
Follow The Towerlight for more in-depth coverage on the CAA seeding and tournament.