Towerlight finds Towson's best pizza
16 April 2014
By Jonathan Munshaw, Editor-in-Chief
2 Comments
Pizza is the prime food for any college student. It is friendly to vegetarians (even vegans when it's purchased at the right location), can be delivered right to your room and is sharable with your friends.
There is always a discussion over who in Towson has the best pizza for anyone to order, which is why The Towerlight held a pizza showdown, to find out who has the best pie.
We brought in a panel of five judges: Skyler Jenkins, a student and captain of the TU Kronum Club, Provost Timothy Chandler, Vice President for Student Affairs Deb Moriarty, Assistant Vice President for Student Diversity Victor Collins and Virginia Thompson, the chairwoman of the Department of Geography and Environmental Planning.
Each judge was given a slice of pepperoni pizza from five local pizza places:  Pizan's Pizza, Seasons Pizza, Pizza Boli's, Pasta Mista and Pizza Palace. We avoided doing national chains (ex. Pizza Hut and Dominos) to keep the contest more Towson-centric. Many of these locales are chains, but are limited to Maryland and its surrounding states.
After eating the slices, the judges gave the pizza a score out of five, and we used the average of the five scores to find out who makes Towson's best pizza.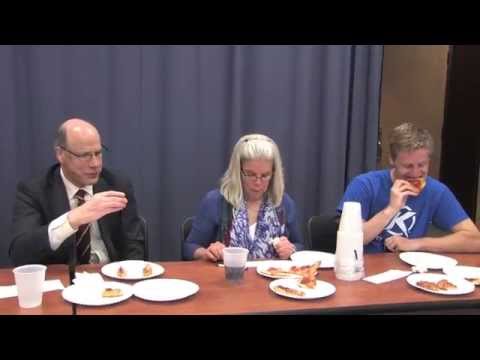 We are including quotes from the judges to say why they did or didn't like a particular pizza, as well as the price for each pizza, which was ordered to be the closest option to a medium pizza. The price includes the delivery fee and a 15-percent tip for the driver.
The price for Pasta Mista is lower because it does not deliver, and the pizza had to be picked up from the restaurant.
Pizans:
Price – $16.20
Collins – 4
Jenkins – 1
Moriarty – 4
Chandler – 4
Thompson – 2
Average – 3
Chandler had better things to say about this pie than anyone else, saying that the pizza had a "very nice, lingering flavor" and that the pizza was "very pleasing to the pallet."
However, Jenkins disliked this particular pizza so much he didn't even make it to the crust, while Thompson said she thought the crust was too thick, which hurt Pizans's score in this case.
Pizza Boli's:
Price – $15.41
Collins – 4
Jenkins – 3
Moriarty – 3
Chandler – 3
Thompson – 4
Average – 3.4
The overwhelming word for Pizza Boli's was "average," which is reflected in the score. Chandler said the pizza was "nothing memorable," and Moriarty called it "pretty average."
Pasta Mista:
Price – $12.40
Collins – 3
Jenkins – 4.5
Moriarty – 2
Chandler – 3
Thompson – 4.5
Average – 3.4
Although Pasta Mista tied Pizza Boli's for an average score, the grease seemed to be what held it back from getting any higher.
Although Thompson had it tied for first on her scorecard, she did say it was greasy but "the crust was very good."
However, Moriarty gave it a lower rating, saying that the pizza was bland and the sauce wasn't particularly flavorful.
Pizza Palace:
Price – $16.30
Collins – 2
Jenkins – 4
Moriarty – 3
Chandler – 2
Thompson – 3
Average – 2.8
Pizza Palace seems to have gotten the lowest score in this test for a number of reasons. Collins joked that the pizza was so greasy "I could have oiled my car."
Chandler said he thought the pepperonis were too salty, while Thompson said, "It had a sweet overtone that I really didn't like, it's almost like they put too much sugar in the sauce."
The sugary taste was what helped this pie score higher for Moriarty though, who in the end, ended up calling it "average."
Seasons:
Price – $13.03
Collins – 3
Jenkins – 4.5
Moriarty- 5
Chandler – 4
Thompson – 4.5
Average – 4.2
Seasons was declared the overwhelming favorite by the judges, not just in score but also in verbal praise. Chandler immediately confirmed it as the winner, while Moriarty said it was the crust that put it over the top for her.
"I thought the crust was excellent, it was thick and flavorful," she said.
Collins also commented that the sauce had more flavor in it than the other pizzas.