Pedestrian bridge connecting West Village, main campus opens
25 August 2014
By James Greene, Staff Writer
One Comment
The Towson community now has a new and safer way to cross Osler Drive when traveling between West Village and the main campus.
Hosts of members from the Towson community including students, faculty, alumni and politicians gathered in front of Enrollment Services Friday to witness the ribbon cutting of the new pedestrian bridge over Osler Drive.
The long-awaited bridge provides the community safe access from West Village to the academic core of campus. It is estimated that 3,500 students will cross the bridge every day during the academic year.
Jerry Dieringer, Assistant Vice President of Student Affairs and Housing and Residence Life said thousands of students can safely cross the bridge every day without dodging unpredictable drivers.
"It's symbolic about a connection for our campus and students," he said.
Acting President Timothy Chandler said the bridge connects ideas and the "free flow" of information.
"[The bridge] suggests life for students is not two pieces," Chandler said. "It facilitates the connections between residences in West Village and the academic core of the campus."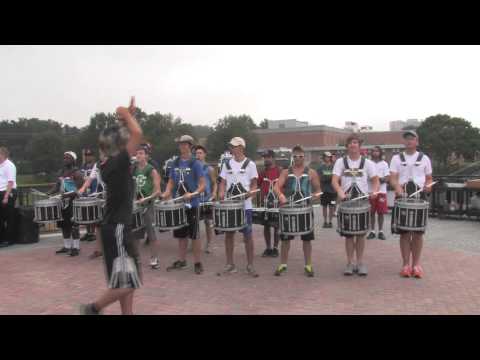 Chandler says the bridge removes wall to open the way for collaboration, communication and opportunities inside and outside the classroom.
SGA President Kevin Kutner said the university continues to maintain its support for students and says the bridge serves as a "landmark" for current and future students.
"While I love this bridge for student safety, a huge priority on campus," he said, "I will admit I am thankful I can get Jamba Juice without any stops."
Kutner thanked the students who lobbied in 2012 to gain support for the project as part of Tiger Pride Day.
University Residence Government President Alex Crenshaw, with Chandler, Dieringer and Kutner, was also a part of the ribbon cutting.
As members of the SGA and administration cut the ribbon, the Towson University Marching Band played the TU Fight Song, leading the crowd of about 700 over the bridge for the first time.
Kelly Vanadia, a junior, said it was nice to be part of history at Towson.
"In 20 to 30 years, I can say to my kids, 'see that bridge up there? I crossed it when it first opened,'" she said.
Rita Mantova, a sophomore, doesn't live in West Village, but said she just has glad to see the bridge in place. When she wants to visit her friends it'll be "super convenient, without having to worry about the cars."
Nancy Surosky, representing Baltimore County Executive Kevin Kamenetz, said the bridge is a symbol for Baltimore County, as well. She said the bridge places emphasis on the county's care for students and their safety.